For SOLLEN, sustainbale furniture is furniture that is well thought out, well produced and designed to withstand everyday life. Our furniture are design and timeless, made in France (Nouvelle Aquitaine) with materials carefully selected:
Wood from sustainably managed forests certified PEFC for a reasonable and sustainable management of the forest.
Fabric "boucle wool" 100% recycled fabric, labeled GRS, Global Recycled Standard.
But to go further, we made a strong choice: let Eco Impact, an external and independant organization, note the environmental and social impacts of our products.
Why eco-rate SOLLEN's furniture ?
This assessment is part of our responsability policy:
Transparency: to enable you to make informed choices.
Continuous improvement: to enable us to identify our priority areas for improvement.
Fighting greenwashing: to validate our actions and our values and thus leave no room for misleading communication.
The rating of our products by Eco Impact, how does it work ?
The Eco Impact rating is based on a Life Cycle Analysis (complete study of all parts of the furniture, from the extraction of the raw materials that compose it to their end of life, including manufacturing, transport, ect.) but by integrating demanding qualitative criteria in addition such as the social conditions of manufacture. We let you discover how it works in less than a minute:
If you want to know more, go to the Eco Impact websitefor more details on the methodology.
The rating of our products by Eco Impact, quels sont nos résultats ?
NUAGE COLLECTION – (armchair, footrest, day bed, bench) oak finishing, white boucle wool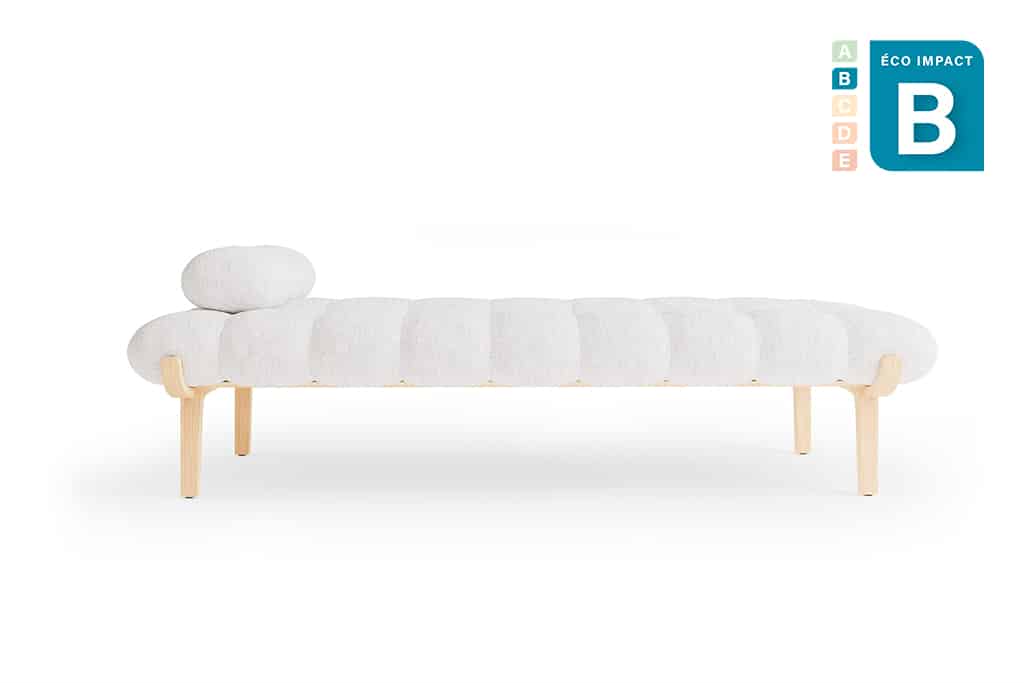 Following an evaluation carried out by Eco Impact ™ based on the principles of Life Cycle Assessment, our NUAGE collection in oak finishing obtained the rating B on a scale from A to E.
The strengths of the NUAGE collection – oak finish.
Raw materials
The oak veneer birch plywood, certified PEFC, represents between 45% and 61% of the total product mass and has low impact factors.
The selected recycled fabric represents between 11% and 12% of the total product mass and has lower impact factors than average.
Transport
Sourcing of 100% European raw materials.
The entire subcontracting chain is in France, which helps to limit the impact of production transport compared to comparable products.
Sustainability & Recycling
Quality cabinetmaking products – Valued durability
100% separable and removable product. 100% padded part intended for energy recovery & Solid wood intended for recycling at 83% and energy recovery for 17% in the conventional end-of-life industry.
This note highlights our eco-design work, our transparency and commitment to the environment.
Find the detailed ratings for each product on the last product image on our product pages.